At St. Thomas More Catholic Community — located in suburban Las Vegas — parishioners
don't need a white Christmas to get in a festive mood. Among its cactus and seasonally mild temperatures, Christmas comes alive with tiny white lights, ornaments and even a living nativity display.
Parishioners got started this week, when representatives from different ministries adopted individual trees on the church campus to decorate.
Volunteers were provided with lights from the parish and a big bow, as well as a sign to identify their ministry. From there, they let their creativity take over.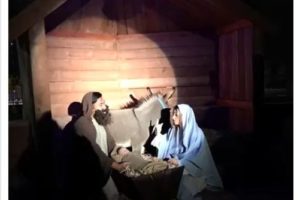 The lights came on three days later, during a parish-wide volunteer appreciation event, when parishioners were treated to a Christmas celebration — both inside and outside of its community center.
"The them was joy," says Associate Ken Rosania, who serves as pastoral administrator at the parish.
Along with the twinkling lights filling the desert sky, a living nativity scene made a powerful impact, and included a live donkey and even Fr. Mike Keliher, CSV, and Fr. Alan Syslo, CSV, serving as the wise men.
Santa arrived on a fire engine,  while onlookers rode a train throughout the church campus to take in all of its splendor.
Inside, parishioners gathered for food, karaoke, cookie decorating, a photo booth, caricature artist, food booths, live carolers, and refreshments.
Better yet, they had the chance to mingle with staff members and  the Viatorians who run the parish: Fr. Mick Egan, CSV, pastor, Fr. Michael Keliher, CSV, associate pastor, Fr. Alan Syslo, CSV, associate pastor, as well as Associate Ken Rosania, pastoral administrator; Associate Juliann Dwyer, religious education director and Associate Mike Underwood, deacon.
The holiday gathering underscores one of the Viatorians' main missions: to raise up communities where faith is lived, deepened and celebrated.