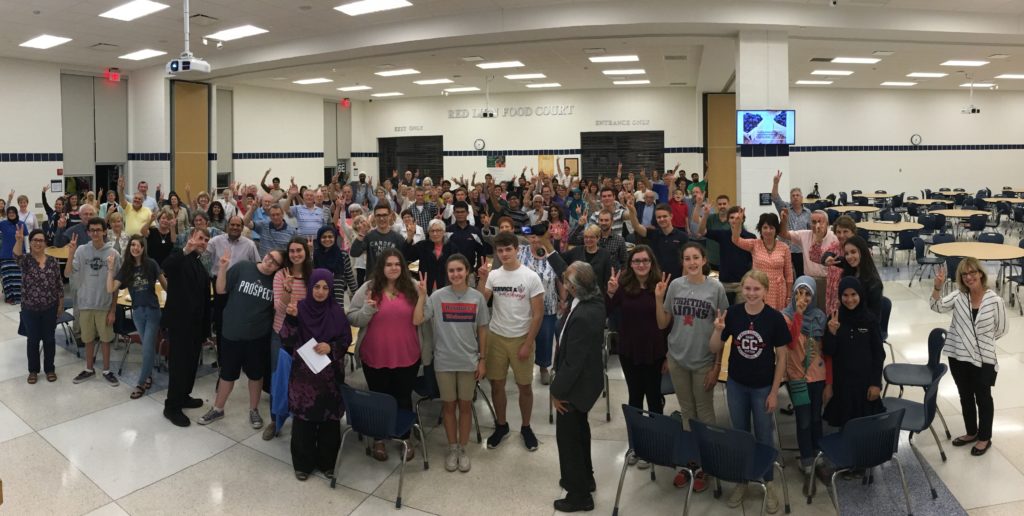 Interfaith dialogue, teens speaking out again hatred, and a presentation from a Holocaust survivor.
It all added up to a fitting way for members of the Children of Abraham Coalition to remember the tragedies of the terrorist attacks on Sept. 11, 2001 — and advance ways of overcoming religious-based hatred.
Fr. Corey Brost, a Viatorian priest, helped form the Children of Abraham Coalition in 2011 as a way to confront that hatred and promote interfaith dialogue. He drew immediate support from members of area temples and Islamic centers in the Northwest suburbs, including teens and adults.
"We can't stop all the religious-based hate in the world, but we can do our part," Fr. Brost says. "We can be people of peace in our corner of the world, especially on Sept.11, a day that showed how deadly religious hate can be."
This year's "potluck for peace" dinner drew 150 people to Saint Viator High School's Querbes Hall. They included Christians, Jews and Muslims from several mosques, churches and synagogues in the area.
A highlight was the firsthand testimony of Mr. Steen Metz, a Holocaust survivor from north suburban Lincolnshire and grandfather to Saint Viator sophomore Sarah McDermott.
Members of the Children of Abraham chose Metz as their first recipient of the Courage of Abraham Award, which was established to recognize those who have spoken out boldly against faith-based bigotry.
In accepting the award, Metz told his story of how he and his parents were shipped in 1942 to Theresienstadt, a hard labor camp some 550 miles away, in Czechoslovakia. Within six months, his father died of starvation, but he and his mother survived. They were liberated one month before the end of the war in 1945.
In talking about his survival, Metz urged the young people in the audience not to be bystanders when they see people promoting bigotry, but to be upstanders and speak out against such hatred.
Four teenage members of Children of Abraham — including Metz's granddaughter, Sarah — spoke up at the dinner, offering a presentation on the importance of interfaith dialogue in their lives — and the world.
Sarah's courage to speak up, and her grandfather's, were covered in a news column in the Daily Herald.
Sarah also serves on the adult-youth board of the Children of Abraham Coalition's board, carrying on her grandfather's mission to stand against hate.