Just days after Fr. Jason Nesbit, CSV, returned from serving as a delegation leader
with the Viatorian Youth Congress, he had to change gears and address a different constituency: the Chicago Bears.
For the second year, he was asked by the organization's front office to come and say Mass for some of the coaches, players and staff.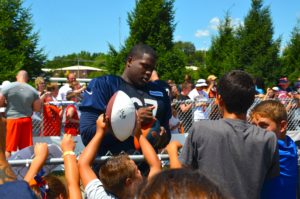 Consequently, he and Br. Peter Lamick, CSV — who played football at Saint Viator High School and now will be coaching freshmen there this fall — were able to accommodate their request. Br. Peter served as an acolyte and lector during the liturgy.
"It was a pleasure to have you and Br. Peter join us today," said Brian McCaskey, head of training camp operations for the Bears "We very much appreciated it."
Fr. Nesbit serves as associate pastor of Maternity of the Blessed Virgin Mary Parish, located adjacent to Olivet Nazarene University, site of Bears training camp and former home to St. Viator College.
"It's hard, because once people enter the room, I know this would probably be the most peaceful moment they get for most of the day," Fr. Jason said. "I wanted to respect their privacy — and also insure that the main reason for going over was to lead them in prayer and insure those who were there receive the sacraments."