School started last week at St. Viator School in Las Vegas, and one week later students eagerly got up early for a favorite tradition at the school: Chess Club.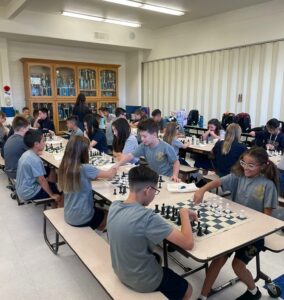 They gathered today at 7 a.m. for the club, in the school's cafeteria. They played under a unique set of banners highlighting the chess team's state championships. The school has won the Nevada State Chess Tournament five times since they started the club in 2002, and in 2015 they placed 10th at nationals.
The chance to play chess draws students from kindergarten through eighth grade, who make quite a commitment in order to participate. They meet an hour before school, from 7- 7:45 a.m. on Monday, Wednesday and Friday to learn strategy, opening moves and just play games with peers.
"Chess teaches students focus, strategy, critical thinking skills, problem solving and mathematical thinking," says Mrs. Katie Kiss, Principal. "Our students are matched by age as they start, and later, by ability level, but it's not uncommon to see a kindergarten student facing an older opponent during tournament play.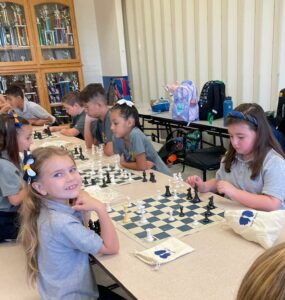 Still, while St. Viator's team has a strong reputation in Nevada, the club's focus remains on offering chess as an extracurricular activity, and that if interested, players can advance to a competitive level.
"The goal of the Chess Club is to provide children with a fun, social and safe environment," school officials say, "to learn, play and enjoy one of the world's most popular games."