An apparition of Mary to Mexican peasant Juan Diego, more than 450 years ago, continues to resonate with worshippers, including those at Viatorian ministry sites.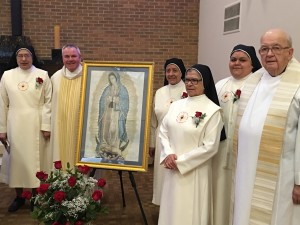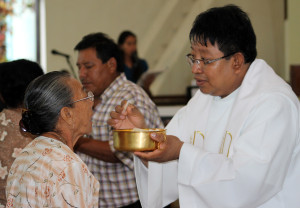 On the feast of Our Lady of Guadalupe, Dec. 12, Masses took place at the Province Center in Arlington Heights, at Cristo Rey St. Martin College Prep in Waukegan and at St. Viator Parish in Chicago, where an early morning Mass and fiesta culminated an overnight vigil and nine-day novena.
Fr. Moses Mesh, CSV, associate pastor of St. Viator Parish, preached all nine days of the novena and celebrated Mass on the feast day. The celebration featured vibrant music and folkloric dancers and drew nearly 400 to the historic church.
Fr. Patrick Render, CSV, new pastor of St. Viator, watched in amazement as pilgrims came each night for the novena, describing it as a "labor of love" for the parish's Hispanic community.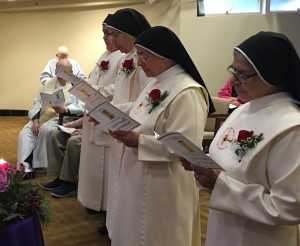 "Visitors from many other parishes throughout the city came and joined with our community in a celebration that was both religious and cultural," Fr. Render said. "Both aspects are integrated in this feast, since the Virgin herself was one of us and brought pride and dignity to the people and their native heritage."
At the Province Center, Fr. Tom von Behren, CSV, and Fr. James Michaletz, CSV, celebrated Mass for members of the Arlington Heights and Chicago Region as well as the Missionaries of the Sacred Heart of Jesus and Our Lady of Guadalupe, who wore special flowers for their feast day.
"Today, we celebrate not just that Mary appeared to Juan Diego on a hill, but we celebrate that Mary fully revealed herself, and allowed him to share that with the bishop and the world," said Fr. Thomas von Behren, CSV, provincial. "It was an apparition that changed lives. It brought us to the reality of who Mary really was."
At Cristo Rey St. Martin College Prep, where Viatorians continue to be one of the sponsoring religious communities, Fr. John Milton, CSV, and Fr. Charles Bolser, CSV, concelebrated Mass in advance of the feast day, so that the entire school could attend.
"It's a beautiful feast because it allows us to focus on Mary," Fr. von Behren, added, "and the vessel that she was, opening herself up to God's words:  Be it done to me, according to your word."