It has been nearly 16 years since members of the Viatorian Community came to Corozal Town in northeast Belize to take over St. Francis Xavier Parish and serve its parishioners stretched across 24 villages.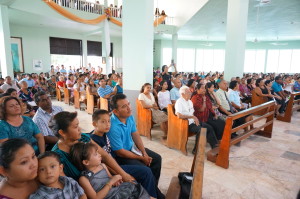 Over the years, 12 Viatorian priests and brothers served the people of the parish and its schools, and in 2003 they responded to a request from the Belizean Parliament to open a vocational high school, naming it Chunox St. Viator High School.
St. Francis Xavier parishioners celebrated the Viatorian legacy late last month before welcoming a new religious community, the Franciscan Community of Mexico, who formally took possession of the parish.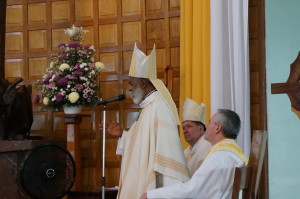 The Viatorian legacy remains vibrant, however with 12 Viatorian Associates among its parishioners, as well as an auxiliary bishop and a native Belizean among its vocations.
At an installation Mass of the new pastor, Bishop Dorick Wright of the Diocese of Belize City and Belmopan presided, joined by Auxiliary Bishop Christopher Glancy, CSV, and the two provincials of the Franciscans and Viatorians, Friar Gabriel Romero Alamilla and Fr. Thomas von Behren, CSV.
Fr. Moses Mesh, the Viatorian pastor and his new predecessor, Friar Fidel Ojeda Rutiaga, also concelebrated at this special Mass.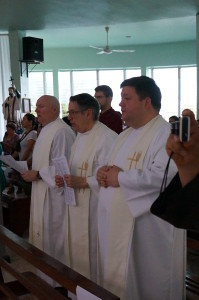 "Serving the people in Belize has been a true grace for us," Fr. von Behren said, "and we hope it has been a gift of grace for the people of Corozal."
Many of the Viatorians who had served in Belize attended the installation Mass as well as members of the Missionary Sisters of the Sacred Heart of Jesus and St. Mary of Guadalupe, who have ministered there with the Viatorians since 2003.
"The celebration was multicultural and multilingual," said Bishop Glancy. "It was a wonderful celebration of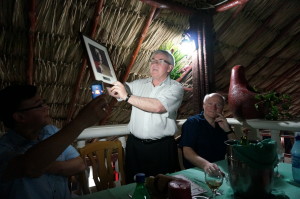 church."
Br. Carlos Ernesto Flórez, the first Colombian to serve the parish, said ministering in Belize came at a crucial moment in his vocation, when he was looking to do something more meaningful.
"I will be forever touched by the richness of their simplicity," Br. Carlos said.
Br. John Eustice, who served nearly five years there in outreach ministry, said his life has been changed forever by Belize.
"I cannot forget the permanent mark on my heart that is called Corozal," Br. John said.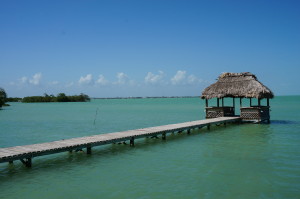 In closing, the Belize parishioners reminded the Viatorians of the local adage: "You drank the water, so you must return."