The mood was upbeat and positive at Sunday's Mass of Thanksgiving and Farewell at St. Viator Parish in Chicago. Hundreds of parishioners filled the pews to celebrate with the Viatorians — who have served the parish for 133 years — and thank them.
Right from the opening hymn, "No Hay Dios Tan Grande," or "There's No God as Great," with its lively percussion and people clapping along, everyone knew that this was not a funeral — but a celebration.
"Welcome to this very special occasion," said Fr. Patrick Render, CSV, pastor, at the outset. He concelebrated the bilingual Mass with Fr. Moses Mesh, CSV, associate pastor.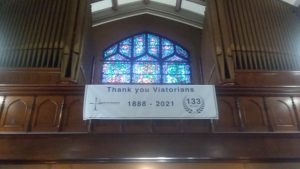 A processional included nearly one dozen Viatorians, including former pastors and associate pastors, while Viatorian brothers and lay associates were seated together near the front of the church.
During the homily, Fr. Render and Fr. Mesh recounted the long history of the parish, from its 24 Viatorian pastors, associate pastors and countless religious brothers and associates, to describing its original boundaries and the many parishes that spun off from this mother church, to naming a few of the many ministries started by Viatorians.
"If you see any of the fingerprints of Viatorians in this parish, you can be grateful for that," Fr. Render said, "but more importantly build on that, carry it forward and extend it into the future."
In closing, Fr. Render and Fr. Mesh took a line right out of Mark's gospel for the day: "Do not be afraid, your faith will save you."