Officials at St. Thomas More Catholic Community in Henderson, NV, added a unique experience to their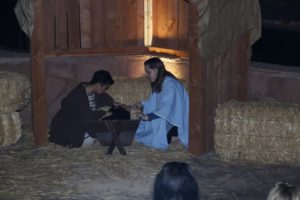 Advent season this year: a living nativity, complete with actors and seats around the manger setting. The live depiction is planned for every weekend through Advent at this parish of more than 6,000 families.
"Speaking for the actors, we hope those who come out to watch it see the story of the nativity — which is so familiar to all of us —  in a way that makes it become more real for them," says Bob Blaskey, who directed the story, "and a way to truly put Christ in their Christmas."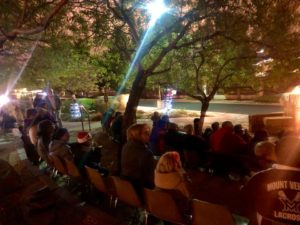 The opening night, Dec. 7, drew every seat to be filled. Parishioners watched as a young Mary and Joseph huddled over their newborn infant, who lay in a wooden cradle set amidst the hay of a small, rustic manger.
They were startled when shepherds greeted them, and three wise men from the north, who came laden with gifts. On this night, even Santa Claus himself came to visit the young family, bending down low to kiss the infant, Jesus.
Presenting the live Christmas story was a labor of love for Blaskey. This Las Vegas native brought his experience in television and movie production — he created 17 faith based videos for Harcourt Religion — to both Viatorian parishes in the Las Vegas area, more than 20 years ago.
He calls it drama ministry and he has shared this unique vision at both St. Thomas More and more recently at St. Viator Catholic Community. The ministry includes skits seen occasionally during Mass, as well The Christmas Spirits, which combines singing Christmas carols with visiting those in the hospital and hospice facilities as well as other organizations.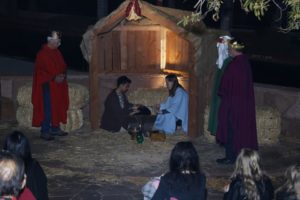 Blaskey also works with children at St. Viator School, developing school liturgies, facilitating its video team and helping to produce special events. Earlier this month, members of St. Viator School's Foundation board honored him for all his efforts at their annual dinner.
"I am truly blessed," Blaskey says, "to be able to do what I  love for a living."
I used to do drama ministry at St. Thomas More until Fr. Pat left. I used to do faith-based  videos (published by Harcourt Religion) before starting at St. Viator and creating DM there, then STM.