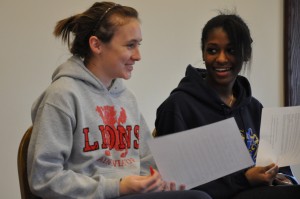 Bridges Retreat Leads Students to Reach Across Barriers 12/20/2011 view the Bridges retreat photo gallery
Students at Saint Viator High School in Arlington Heights and at St. Martin de Porres High School in Waukegan were the latest to build bridges. They joined together on a two-day retreat aimed at exploring issues of racism, discrimination, prejudice and stereotyping — and the Christian response.
"The Bridges Retreat is a great opportunity for students to come together in a safe place to discuss their experiences," says Br. Michael Gosch, a Viatorian social worker at St. Martin de Porres. "By listening to one another, they realize that we all are guilty of judging others based on first impressions, and that it is critical to take time getting to know a person before making any judgments."             The two-day retreat gave students plenty of time to build relationships.             "I came away from the retreat with a sense of peace," said senior Tayler Morris of Waukegan. "I think everyone there did, and now we're driven to share this experience with our classmates and family."
Fr. Corey Brost, a Viatorian priest and vice president of Saint Viator High School, designed the Bridges Retreat nine years ago while serving at a racially diverse parish in Springfield. Since then, he has introduced it to students at Bishop Gorman High School in Las Vegas and now at these suburban Chicago schools. Everywhere he has taken it, students have come away with a new vision of diversity.
"I was able to be myself with people I had just met," said Saint Viator sophomore Santiago Sordo Palacios of Arlington Heights, a native of Venezuela. "We were all able to see past our differences."