A 20-year tradition continued over the weekend when Fr. Charles Bolser, CSV, said the annual "cast Mass" Saturday at Saint Viator High School. Fittingly, it fell right before the start of Catholic Schools' Week, when communities across the country celebrate the impact of Catholic schools. But there was more going here than celebrating the liturgy.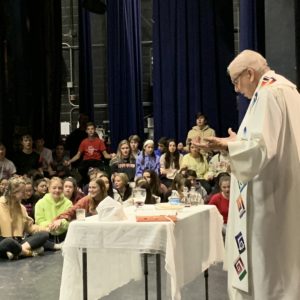 The Mass always falls on the Saturday before opening night. This year, the cast and crew will present "The Sound of Music" for the next two weekends. The beloved musical features nearly 150 students, between the actors, technical crew and those in the orchestra pit.
Celebrating Mass together, after working so hard toward opening night, makes sense, says Br. John Eustice, CSV, Vice President of Viatorian Identity and Mission at the school.
"The cast Mass is such a powerful experience for these kids," Br. John says. "They spend so much time together, rehearsing, working toward a goal and discovering their talents, that it's a real community builder.
"As Viatorians, we are committed to 'raising up communities where faith can be lived, deepened and celebrated,' " Br. John adds. "The cast Mass is the culmination of that."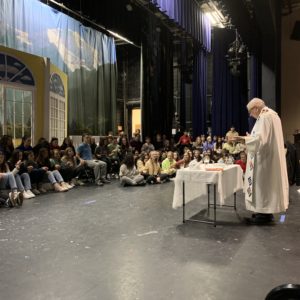 At the culmination of his homily, Fr. Bolser surprised the cast by reading the lyrics of "Climb Every Mountain," before the seniors offered their own reflections. One by one, they thanked the production staff, teachers and classmates, but they also offered some advice to the underclassmen.
One student described how he was shy before trying out, but after appearing in the musicals, he has "found his voice."
Another summed up the feelings of all of his classmates: "Enjoy every minute. These memories will last a lifetime."