It has been 65 years since Br. Leo V. Ryan, CSV, first took vows as a Viatorian brother. He renewed those vows Monday in the confines of the Provincial chapel in Arlington Heights, before Fr. Thomas von Behren, CSV, provincial, and his Viatorian confreres.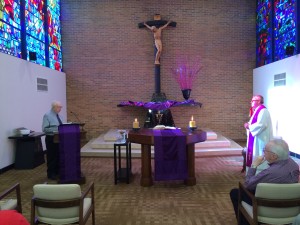 "Thank you for your 65 years of service," Fr. von Behren said, "and your generosity to the Viatorian Community."
Br. Ryan's years of ministry have taken him around the world, literally. From serving in Nigeria with the Peace Corps during 1967, to serving as a visiting professor and prolific writer in Poland, to serving as a member of the Viatorian General Council in Rome; he has advanced the Viatorian mission in all corners of the world.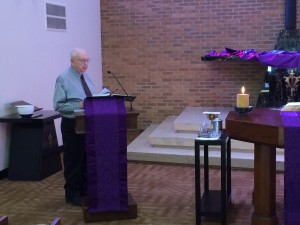 Closer to home, Br. Ryan has led business departments at three Midwestern universities, including Marquette, Notre Dame and DePaul, whose university officials credited Br. Ryan with helping to transform its business college into a nationally ranked and internationally known institution.
Now retired and living at the Viatorian Province Center in Arlington Heights, Br. Ryan continues to write for various publications and travel. But most days, he begins with daily Mass in the chapel and ends with evening vespers, which he first learned as a novice, 65 years ago.