Br. Don Houde, CSV, Curator of the Viatorian Nativity Collection
December 17, 2015
Br. Don Houde made a career in secondary education, serving as a teacher, administrator and ultimately director of curriculum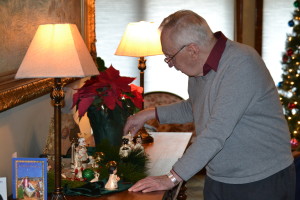 and administration for the Archdiocese of Chicago. But around the Viatorian Province Center he fills a different role: art historian, with a particular interest in the community's nativity collection.
It is a family tradition, after all. His father, Albert Houde, handcrafted the Viatorians' first nativity set that stood outside the newly erected Province Center and Novitiate, back in 1952. He was a contractor and woodworker in Bourbonnais, but he gladly lent his hand to setting out an image of the first family, where his son was one of the first novices to take his vows at the center.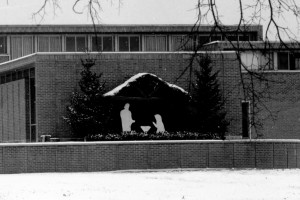 That legacy continues. By Br. Houde's own count, there are more than one dozen nativity sets in the collection — representing cultures around the world. Some are family heirlooms, but others were given to Viatorian priests and brothers as gifts.
Each year during Advent, Br. Houde unearths the sets and decides which ones to display.
He points to the Vatican crèche, whose pieces were authorized by the Franklin Mint and the Vatican Museums, as being the most valuable. The multi-piece set was given to Fr. Thomas Langenfeld, CSV, upon the completion of his 12 years as superior general in Rome. He was the first American elected to the position, and the youngest.
But other sets hold sentimental value. One of the more unusual is a replica set of Faberge eggs, made of glass and painted with
images of the Christmas story. The eggs were created in Poland and were a gift to Br. Leo Ryan, CSV, who has co-written more than 50 professional papers on Polish economic and political transformation.
A pair of wood carvings of the holy family were added to the collection by Fr. John Brown, CSV, who served as provincial superior of the Viatorians from 1949-1959, during the years when the Province Center was built and the novitiate moved to Arlington Heights. Beyond his pastoral leadership, Fr. Brown is credited with establishing much of the Viatorians' early art collection.
On the sideboard in the living room of the Province Center, a nativity set made in Mexico is displayed. The grouping was given by a former student to Fr. Arnold Perham, CSV, a longtime math teacher at Saint Viator High School.
One of Br. Houde's favorites, is a tiny set which he acquired in Peoria, during his years as a teacher and ultimately principal of Spaulding Institute. "It's an Italianate pattern," Br. Houde says. "I just like the quality of the art. It's so delicate."
Finally, Br. Houde waits until after Advent is over to pull out the largest set in the collection. Its pieces are made of solid white marble and they make quite an impression set against green velvet draping and bathed in red poinsettia flowers. The set was obtained nearly 40 years ago from the Immaculate Conception of St. Mary Church in Kankakee, whose pastor originally had purchased the set in Rome.