The awards keep coming for Ken Leonard, the former longtime football coach at Sacred Heart-Griffin High School in Springfield. He retired last fall as the all-time winningest football coach in the Illinois High School Association, with a record of 419-81. On July 31, Leonard was named the USA Today Boys' Team Coach of the Year.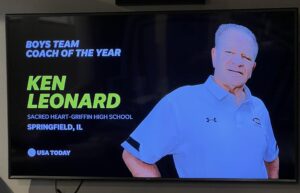 For all of his accolades, Leonard hasn't forgotten how he got there. It was a Viatorian, the late Fr. Robert Erickson, CSV, who hired  Leonard to coach the football team at the former Griffin High School for Boys in Springfield.
"He changed my life," Leonard says. "I've spent the rest of my life here."
Fr. Erickson hired Leonard in 1984, during his years as principal, from 1978 to 1988. He then served as vice principal and director of development at Sacred Heart-Griffin High School from 1988 to 1991.
"He was very fair and great to work for," Leonard says. "He wanted us to be the best we could be and he gave me every opportunity to do that."
Mostly, Leonard remembers how the school's Catholic identity permeated the football program.
"We (the football team and coaches) went to Mass every Friday, and Fr. Erickson said a lot of those Masses," he says. "We weren't bashful about who we were as a Catholic, Christian community."
During his early years at Griffin and later at Sacred Heart-Griffin, Leonard remembers working for then Athletic Director, Fr. Robert M. Egan, CSV, who first interviewed him, and alongside Fr. Thomas von Behren, CSV, who was an underclassmen baseball coach.
"When I first got here, there were a number of Viatorians here," Coach Leonard says. "There were great educators, who led boys to become men and they did it the right way."
"I loved working for the Viatorians," he adds. "It was a great place to coach. I've been blessed."