A solemn tradition returns Saturday at St. Patrick Church in Kankakee, when Fr. John Peeters, CSV, Pastor, celebrates a Blue Mass to honor police, fire and emergency medical personnel who serve in Kankakee County.
After taking last year off because of the pandemic, the powerful tradition resumes — on the 20th anniversary of 9/11.
Fr. George Auger, CSV, started the special Mass in 2006 as a way to kick off the parish's Half-Paddy Festival.
The Mass begins with a procession of first responders, who march from the Kankakee County Courthouse down Indiana Avenue to St. Patrick Church, led by bagpipers and members of the Knights of Columbus. Typically, residents of Kankakee line the streets to applaud them.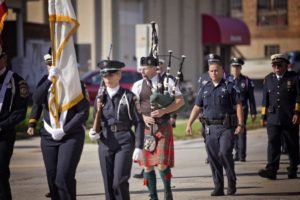 They are met by Fr. Peeters, who welcomes them on the steps of the historic church, where during the Mass police and firefighters serve as lectors and Eucharistic ministers and bring up the gifts during the offertory.
It's a Mass steeped in tradition and one that promises to be even more meaningful this year, as the congregation reflects on the 2,977 victims who were killed in the September 11 attacks, including the 412 emergency workers in New York City who responded to the World Trade Center.
"As we reflect on the tragedies of 9/11, and how much the world has changed, we realize how important our first responders are," Fr. Peeters says. "We can't imagine a world without their presence in our lives and in our communities."