The Bishop McNamara Catholic School community gathered Sunday at the site where it all started: St. Patrick Church in Kankakee.
In a Mass celebrated by Bishop Ronald Hicks and concelebrated by nearly one dozen priests — including Viatorians — the liturgy heralded the commitment by the school to faithfully educating young people in the Bradley/Bourbonnais/Kankakee region for 100 years.
"What a joy and honor it has been to celebrate these 100 years through this Eucharist," Bishop Hicks said. "As we remember the past, we celebrate the present and look forward to the future."
The school's roots date back to 1922, when the high school opened in the former St. Patrick's School. Run by the Sisters of Loretto originally, the Viatorians became involved in 1931 when they accepted an assignment to serve at St. Patrick Parish.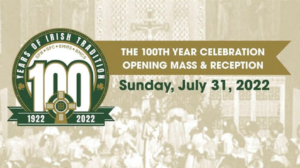 Viatorians would serve as teachers, coaches and administrators for more than 50 years, with Fr. Erwin Savela, CSV, serving as principal until 1988. Fr. John Peeters, CSV, continues to serve as executive pastor on its board of governors, while Associates Ken and Michelle Barrie coordinate the Office of Catholic Ministry within the school.
Over their many decades of involvement with the school, Viatorians have touched the lives of countless students and their families. One family they made a clear impression on was the Hammes family. By the early 1950s, when enrollment was surging, it was Romy and Dorothy Hammes who provided the funds to purchase land to build a new school.
By the mid-1950s, the Hammes family would also donate land to build the first Catholic high school in Southern Nevada — Bishop Gorman High School — and suggest an order of priests and brothers to staff it, the Viatorians. The community would go on to build its own parish and have a significant presence in the Las Vegas area.
However, Sunday's opening Mass was all about Bishop McNamara Catholic School. The packed church signaled the beginning of a yearlong celebration of the school's 100 years of Irish tradition, built on a strong foundation and fortified with a bright future.