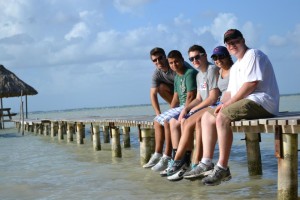 It was all about encounters.
The latest young adults to participate in the Belize Immersion Trip returned in late December, and the experience moved them.
"The Belize Immersion Trip has given me insight into how people across the Belizean and American cultures get together so well to promote the mission of Christ," said Brian Trzop, a 2002 graduate of Saint Viator High School.
Members of the Viatorian Office of Vocations co-sponsor the week-long trip with the Viatorian community in Belize. Another immersion is planned for the first week of June.
"We want these young people to learn about the culture and people of northern Belize," says Bart Hisgen, assistant director of vocations, "and experience ways in which Viatorians are active in service to these communities."
Besides Brian, the latest group included Mike Czopek, a 2009 of Saint Viator High School graduate as well as Andi Orozco, of St. Thomas More Catholic Community in Henderson, NV.
Br. John Eustice, CSV, welcomed them to St. Francis Xavier Parish in Corozal Town, where they also met Viatorian pre-novice Nestor Yam and Viatorian Associates Francisco Magaña, Gregorio Itzab, Ayonie Briceño, Sylvia Vargas and Glenda Francis.
A highlight was working alongside young Belizeans involved with the service group, Project Matthew 25. Together they helped with building new housing for families living in poverty.
Participants also visited Chunox St. Viator High School, and they stayed with host families, who further immersed them in Belizean life.
"They had the opportunity to meet and pray with young adult Belizeans," he says, "while connecting into some of the ministries the Viatorian Community animates."