Breakfast with Santa was a huge hit on Sunday at Maternity BVM Parish. Nearly 100 children clamored to share their wish lists with Santa, at a pancake breakfast event held after the 9 a.m. Mass.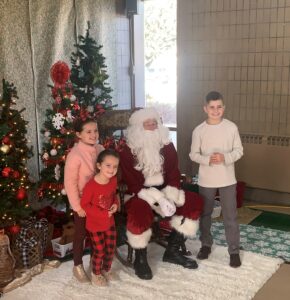 Playing the role of Santa was a Viatorian associate, Mickie Prault, who has been involved in the parish for years and just last summer made his first commitment as an associate.
Mickie is a retired systems manager for State Farm and and an active parishioner at Maternity BVM Parish. Last summer, at the Provincial Assembly, Mickie made his first commitment and he participated in important discussions about the Viatorian Community and strategic planning sessions.
His further involvement in the Viatorian Community is an extension of his role in the parish. Mickie already leads the Fishers of Men ministry, which draws men in the parish to meet every Saturday morning for spiritual formation and fellowship. He also is a member of the Pastoral Council, where he co-leads the adult faith formation commission.
Viatorians have ministered at Maternity BVM since 1865 and since 1999 lay associates have joined the community, working together to advance the Viatorian mission of "building up communities where faith is lived, deepened and celebrated."
"Maternity of the Blessed Virgin Mary is a special place," said Fr. Jason Nesbit, CSV, the 29th pastor of Maternity. "In this 175th anniversary, we not only remember the memories of the past, but we renew our commitment of sharing the Good News of Jesus Christ with the community.
"We invite all to encounter Christ in a very real way," he added, "through the celebration of the Sacrament and living out our mission of being Missionary Disciples who radiate the light of love of Christ to all."