Chicago's new Archbishop Blase Cupich stopped at Saint Viator High School recently, to meet the Viatorians who run it — and talk to some of its students, faculty and staff.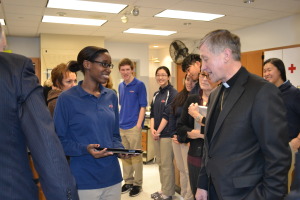 Right from the start, he drew high marks from students. Who knew an archbishop wrote letters to students on Kairos retreat? Or that he would be willing to jump up and down to activate a motion detection sensor?
The archbishop proved to be a good sport during visits in the science department, Campus Ministry, Academic Commons, art studio and throughout the rest of the building.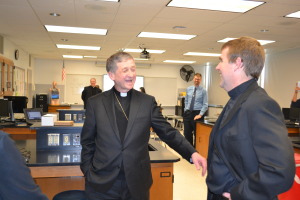 He met with students and faculty members at each stop, and made a concerted effort to ask questions and learn more about their interests.
In Campus Ministry, he commended student leaders for their efforts in reaching out to classmates on retreats who may be going through difficult times.
"Thanks for what you do," he told seniors Mary Claire Bannon, Sean Culm and Jason Wilhite.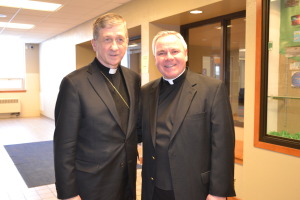 "I can see that you are motivated not just by your own faith, but by what faith can do for others."
The archbishop's visit to Saint Viator came midway during a welcome visit planned to each of the Chicago Archdiocese's eight vicariates throughout Cook and Lake counties, throughout January and February. Saint Viator was the first school he toured in Vicariate I.
"It's wonderful that the archbishop would take the time to listen to kids tell their stories of faith, learning and leadership," said Fr. Corey Brost, CSV, president. "It shows them that who they are — and what they're doing — makes a difference."