Parishioners at St. Viator Catholic Community in Las Vegas learned this week that Deacon Associate Mike Underwood will join the staff as a full-time deacon and pastoral associate.
Deacon Mike and his wife, Kathy, are Viatorian associates. They met working with RCIA candidates at St. Thomas More and now are approaching their 15th wedding anniversary later this month.
"Both Kathy and I are very excited, especially knowing the parish needs the help," Deacon Mike said. "It was a difficult decision to leave St. Thomas More ( in nearby Henderson), but as a deacon I am ordained to serve."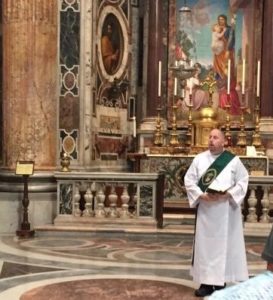 Fr. Richard Rinn, CSV, Pastor, approached Deacon Mike about making the move. Already, Deacon Mike has been helping with baptisms and officiating at a few weddings over the last three years. Bishop George Leo Thomas, of the Las Vegas Diocese, approved the request and formalized the assignment. His first day will be Oct. 1.
As a full time member of the parish ministry staff, Deacon Mike will assist at Masses, visit the sick and officiate at baptisms, funerals and weddings.
Deacon Mike was ordained in 2011 as a member of the first class of deacons ordained in Southern Nevada. His ordination came five years after Deacon Mike and Kathy — Director of the Student Health Center at UNLV — made their first commitments as Viatorian associates.
By 2015, Fr. Robert M. Egan, CSV, Pastor of St. Thomas More, asked Deacon Mike to consider becoming Director of Adult Faith Formation for the large parish. He accepted and eventually left his career as a corporate executive with Wynn Resorts. He has never looked back and now finds great fulfillment in carrying out the Viatorian mission of "raising up communities where faith is lived, deepened and celebrated."
"As an ordained deacon, I made a vow to serve and share the gospel," Deacon Mike says, "but I'm also committed to helping wherever the Viatorian Community needs me."