The tradition of paying tribute to first responders at a Blue Mass, goes back to the mid-1930s in Washington DC.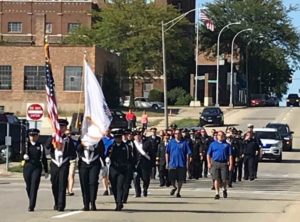 At St. Patrick's Church in Kankakee, Fr. John Peeters, CSV, pastor, brought the tradition to the parish a little more than 10 years ago, and it continues to be a powerful way for parishioners to thank — and bless — fire, police and emergency personnel who work to protect them.
Each year, the Mass takes place during the same weekend as the parish's Half Paddy Fest, but it also coincides in close proximity to the anniversary of 9/11.
A solemn procession of first responders opens the tradition, when they march from the Kankakee County Courthouse down to St. Pat's, led by a bagpiper and members of the Knights of Columbus. Fr. Peeters welcomes them to the historic church, where during the Mass police and firefighters served as lectors, Eucharistic ministers and bring up the gifts.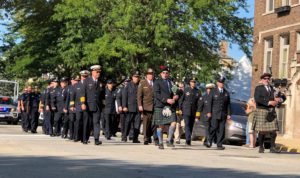 At its conclusion, Fr. Peeters always thanks the men and women in attendance for their heroic service to the community.
"We entrust you to the protection and the intercession of Saint Michael, the patron of police, Saint Florian, the patron of firefighters, and Saint Luke, the patron of medical personnel," he says in a final blessing. "May they guard you and guide you and continue to enable you to be healers and forces for peace and justice in our community."