An emotional tradition returned this year to Saint Viator High School: its Alumni Memorial Mass. After taking place virtually last year, this year's Mass — held back in the confines of the Alumni Memorial Chapel — was all the more powerful.
"Thank you, Saint Viator, for a heartfelt Mass and homily remembering this year's Lions who have passed," one grieving mother said, "along with those who went on to eternal life before them."
Started in 1987, by Fr. Charles Bolser, CSV, the Mass traditionally takes place near All Souls' Day and remembers alumni from both Saint Viator and Sacred Heart of Mary high schools.
"It is in remembering – as a community – that we find healing," Fr. Bolser said, "in all of our diversity, we are one community with the heart of the Christ holding us together and healing our wounds."
A special emphasis is given to those alumni who have passed away in the last year. Photos of each alumnus are framed and showcased around the altar, and their names are read aloud during Mass. Among those remembered this year were two Viatorians who had served at the school, Br. Donald Houde, CSV, a former principal, and Fr. Michael Keliher, CSV, a former teacher and coach.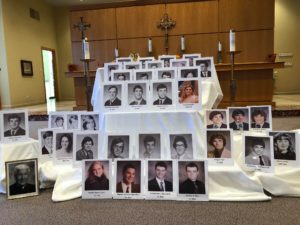 This year, the Viatorians offered two memorial Masses. The first was celebrated in memory of those alumni who had passed away over the last two years, while the second remembered all alumni who had gone to eternal life.
Fr. Bolser and Fr. Daniel Lydon, CSV, President of the school and a 1973 alumnus, concelebrated the Masses, with Fr. Bolser sharing a homily at both. Br. John Eustice, CSV, also helped in streaming the Mass for those unable to attend.
"As we tell our stories and remember, we find healing in our laughter and in our tears," Fr. Bolser added. "Those that we remember still walk with us on our common journey of life."
Afterwards, families had a chance to see their loved ones' names on engraved plaques showcased on the back wall of the chapel. Currently, there are nearly 640 names on the "memorial wall" and more than 270 on an adjacent wall that honors faculty, staff and benefactors.