It was an assembly line that took over the parish hall at St. Thomas More Catholic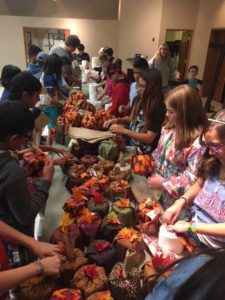 Community in suburban Las Vegas. A little more than a week before Thanksgiving, members of the More Youth group of set out to create the icing on the cake for area feasts: a decorative pumpkin to serve as a centerpiece.
Dorothy Distel, who leads the  junior high religious education students, describes it as their "Smiles" project, in support of the parish's GLOWS campaign, or God's Love Overflows While Serving Others.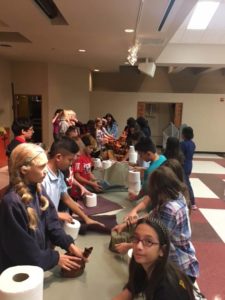 "So far, the team made 519 pumpkins last night to prepare for our Thanksgiving deliveries," Distel says. "The hope is that these gifts put a smile on our recipients' faces."
For more than 20 years, Thanksgiving has been a working holiday for St Thomas More families. Each year, they gather together to deliver holiday dinners with all the trimmings — and a centerpiece — to homebound seniors.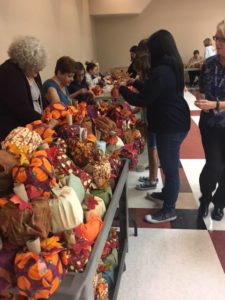 "The real ministry is not so much the food — but a ministry of visitation," says Distel adds.
Last year alone, they served more than 800 seniors, going to nearly 500 homes — in senior apartment complexes, trailer parks and single family homes. The outreach has become so popular that last year they extended the effort to provide meals to seniors on Christmas.
Parish leaders partner with HopeLink of Southern Nevada, a nonprofit organization based in Henderson, as well as Meals on Wheels to identify seniors who are homebound or alone on Thanksgiving day.
"So many of our families participate," says Associate Ken Rosania. "It truly is a ministry."