A celebration of consecrated life hosted by the Archdiocese of Chicago, turned out to be more than a gathering of different religious orders. Instead, they were challenged to explore the mission of reconciliation in their lives and ministries.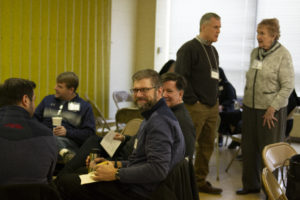 The event took place Saturday and drew more than 150 professed religious — including a table of Viatorians. Together, they explored the power of reconciliation through the lens of radical hospitality, restorative justice and peace circles.
Fr. David Kelly, director of Precious Blood Ministry of Reconciliation on Chicago's South Side, opened the afternoon. He described how missionaries with Precious Blood are working to build up a neighborhood impacted by violence and incarceration — and make it a place of healing and hope. Underlying their work is an attitude of radical hospitality, he said, which can lead to restorative justice.
Ryan Lents followed. He leads the Archdiocese's Office of Human Dignity and Solidarity, and its work in recognizing the dignity of all people and reaching out to those living on the margins. Under Lents' facilitation, groups broke into peace circles to share their views of how they can respond to these challenges.
Finally, Cardinal Blase Cupich addressed the group. As religious, he said, they are called to walk with people who are hurting, and accompany people living on the margins. Through their ministries, he encouraged them to adopt an attitude of acceptance and non-judgement and work toward ways of bringing about reconciliation.