Viatorian Associate Patrick Mahoney capped a 47-year career at Saint Viator High School, where it started: on the baseball field.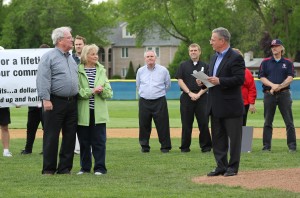 From 1967, when he was hired to coach baseball and quickly was tapped to be the dean of men, through the years as a faculty member, assistant football coach, and development director, he remained one of the school's biggest ambassadors.
"He brought so much love and dedication to this place," said Fr. Corey Brost, CSV, president of Mahoney, who also committed to be a Viatorian associate in 2009.
The surprise ceremony took place before the boys' varsity baseball game, where Mahoney suddenly found himself on the mound, throwing out the ceremonial first pitch. That led to a short ceremony, during which he received some retirement gifts from the administration as well as accolades from colleagues and former students alike.
"This is a melancholy moment in the history of the school," said Jim Bristol, '73. "We're honoring someone who has made a difference in the lives of thousands of students."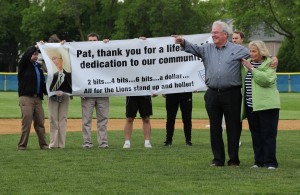 One of Mahoney's former football players, Jim Thompson, '76, compared his coach's pre-game talks to the legendary Knute Rockne of Notre Dame. "He really knew how to fire up a team," Thompson said. "It was very emotional. We'd run through a brick wall for the guy."
Mahoney was surrounded by his wife, Sharon, and some of his children and grandchildren, all of which contributed to the emotions of the moment.
"You all know how I feel about this place; it's never been a job," Mahoney told the crowd. "It's a loving, caring, wonderful community and I'm so proud to have been a part of it."