Cristo Rey St. Viator College Prep in North Las Vegas is among 37 schools across the country in the Cristo Rey Network. Yet it is the only one that has St. Viator in its name — and as its patron.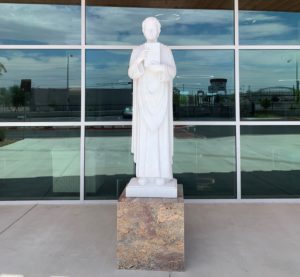 St. Viator Catholic Community, located nearby in the city Las Vegas, wanted to help students understand their identity in attending a Viatorian school.
"You wouldn't necessarily put (erecting a statue of your patron) on the budget, but that's exactly why we did it," says Fr. Richard Rinn, CSV, pastor of St. Viator and a graduate of Saint Viator High School. "We wanted students to understand the importance of their patron."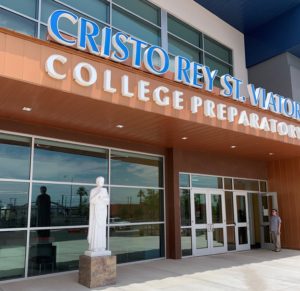 Fr. Rinn appealed to his parishioners for their support in commissioning the statue. It wasn't a hard sell. The parish itself has the same statue in its plaza in front of the entrance to the church.
"We had wonderful support from the parish, right from the start," Fr. Rinn says.
They worked with a religious sculpture company based in New York, who in turn had the sculpture created in Italy, before being shipped to Las Vegas. The statue stands nearly 10 feet tall, including its marble pedestal, at the front entrance of the school. The installation took place June 22.
"We thought about putting it in a courtyard behind the gym, where there is a contemplative garden," says Fr. Thomas von Behren, CSV, president, "but in the end we chose to put it out front, so that when people come in they would see it.
"We want to remind everyone — especially our students — of our identity," he adds, "and what we're about as a Catholic community."