Many charisms, one beautiful celebration.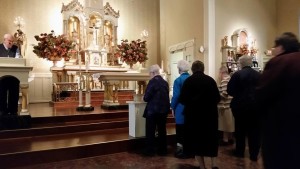 That was the theme of a unique gathering of religious life — including lay associates, brothers, priests and religious from throughout the Bourbonnais and Kankakee region — called by Pope Francis to Wake Up the World!
"As a Catholic community, we are called to thank the men and women religious for saying yes each day," said Fr. Jason Nesbit, CSV, "to a vocation of consecrated life and service to the Lord."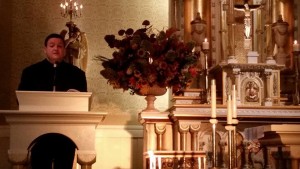 The evening service took place in the historic Maternity of the Blessed Virgin Mary Church in Bourbonnais, and with the 2015 Year of Consecrated Life.
Besides Viatorians, these religious communities that serve in the Kankakee area were honored: Servants of the Holy Heart of Mary, Congregation of Notre Dame, Dominican Sisters of Springfield, Missionary Sisters of the Holy Family, Sisters of Providence, Sisters for Christian Community, Franciscan Brothers, Little Brothers of the Good Shepherd and the Congregation of the Carmelites of Mary Immaculate.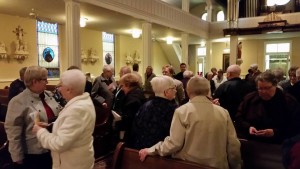 Associate John Ohlendorf, one of the first lay associates of the Viatorian Community, served as prayer leader, and Fr. Jason gave a reflection on his experiences in religious life.
A highlight of the ceremony was the honoring of each religious — by name — and inviting them up to the sanctuary to light a candle, reminding them of their commitment to bring the light of Christ into the world.