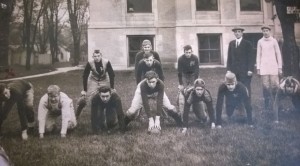 The Viatorian Community Archives received a digital image of this football team from Chris Lynch, an online researcher, who kindly thought we would like it for our St. Viator College collection – and we do appreciate it!  Thank you, Chris, for this historical image, which appear to be taken on the campus in Bourbonnais, IL near Marsile Hall…or is it?  There is some confusion…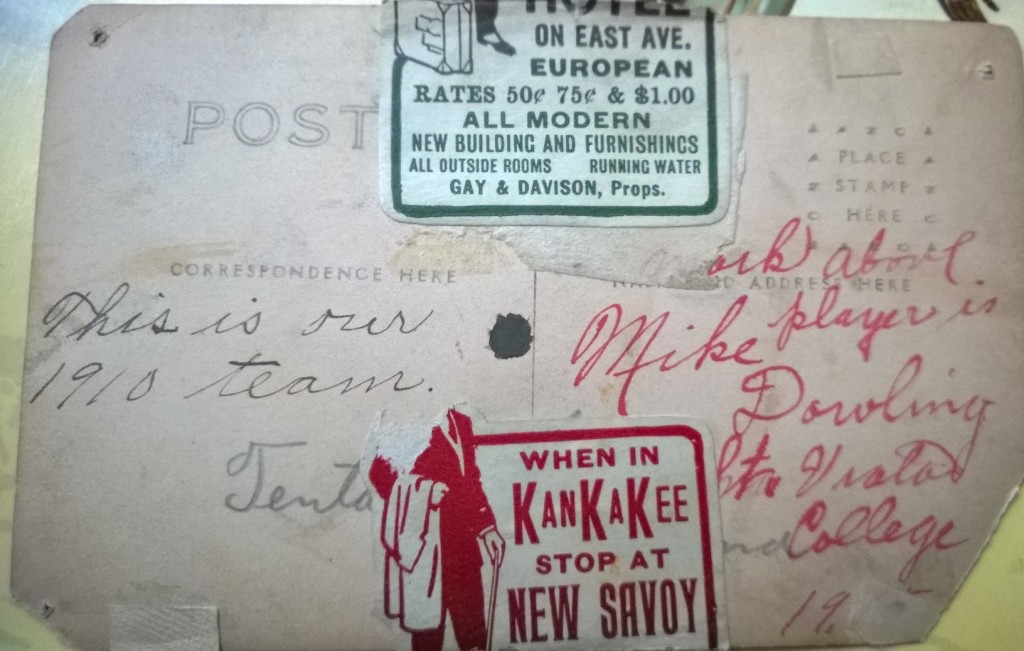 The image is actually a postcard and handwritten on the back is "This is our 1910 team."  She believes her uncle, Louis Landry, from Kankakee, IL, is the fifth person from the left kneeling in the front row.  After looking through the archival records, it appears that Landry attended St. Viator high school academy in 1914-15.
Also, on the back of the postcard, it states "Mark above player is Michael Dowling, St. Viator College" – the player on the far left.  Looking at the records, Dowling graduated from the high school academy in 1915.
So was this football team from St. Viator?  Where would they have been in 1910 in the Kankakee-Bourbonnais area?  Hope you can help identify this one for Chris and myself!
Please contact Joan Sweeney at jsweeney@viatorians.com, if you can identify any of the other young men in this photo, the building or the team.
Thanks for your help.
Joan
Viatorian Community Archivist