Volunteers Lining Up to Support Viator House of Hospitality
February 6, 2017
Volunteers filled every seat in the meeting room of the Viatorian Province Center — and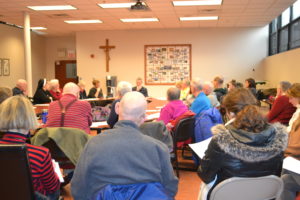 then some. They grabbed dining room chairs and those from other rooms in order to sit in on the first training session led by Fr. Corey Brost, CSV and Br. Michael Gosch, CSV.
What was the draw? The chance to support the Viatorians' newest mission, of accompanying young male immigrants, between the ages of 18 and 21, who are aging out of youth shelters and have no other options, except for adult detention on their 18th birthday.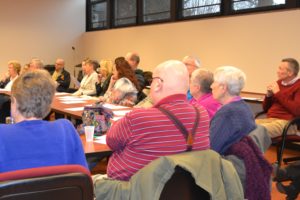 Viator House of Hospitality is located in the Chicago area. It welcomed its first residents — from El Salvador, Guinea, Honduras, Somalia Sri Lanka and Guatemala — in January.
Since moving in, most have started classes and some have part time jobs. All have pro-bono immigration lawyers assigned to their cases, as well as residential staff helping them through the transition.
Volunteers are needed to join in activities, offer supplemental staff support for a few hours at a time, tutor, help with transportation to school and fill various other roles.
One of the first volunteers who offered to fill an early morning time slot was Annie Slusher, a 2011 graduate of Saint Viator High School, who is applying to law schools with the dream of going into immigration law.
As a high school student, she participated with Fr. Brost in a project with the Coalition to Save Darfur, which raised awareness of the genocide going on in the country.
"I'm just drawn to immigration causes," Slusher said, "and the plight of immigrants and refugees. Working  to Save Darfur, inspired me."
Others, like Viatorian Associates Linda Nishi, Betty Faraci and Kathy Myers, a retired teacher from Chicago, came to explore volunteer opportunities with their open days.
"I want to fill my time doing good things," Myers said.
Some in the group said they had heard Fr. Brost speak about the project during his recent homilies at suburban churches.
One of those, John Stoesser of Mount Prospect, who plays in the guitar group at St. Raymond de Penafort Church, already has stepped up to teach guitar to some of the young men.
"The need is urgent," Fr. Brost said. "According to the border patrol, there are nearly 60,000 unaccompanied minors crossing the border each year. We are working with those seeking asylum who are without documentation."