Viatorians Work to Strengthen the Ideals of Peace
September 22, 2017
In celebration of the International Day of Peace — observed around the world on Sept. 21 — the Viatorian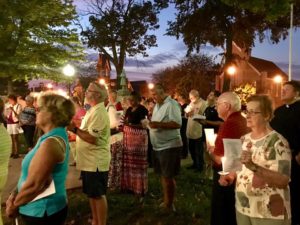 Community in Bourbonnais and Kankakee worked with other faith communities to mount an interfaith prayer service.
"At this critical time of division and violence in our nation," organizers said, "we must pray for our community, our nation and our world."
The candlelight service took place in front of the Kankakee County Courthouse and drew more than 100 people to participate. It was designed as a prayer for healing, hope, peace and unity. Viatorians worked with sisters from the Congregation of Notre Dame as well as the River Valley Clergy Alliance to host the service.
International Day of Peace was established in 1981 by the United Nations. The General Assembly established the day as one devoted to strengthening the ideals of peace, both within and among all nations and peoples.
According to officials with the United Nations, this year highlights solidarity with refugees and migrants and showcases the shared benefits of migration to economies and nations, while also acknowledging legitimate concerns of host communities.
Ultimately, it is about bringing people together and reminding them of their common humanity.