Viatorians Support the Sanctuary Movement by Faith Leaders in Response to More Deportations
December 28, 2015
Viatorians support the faith leaders across the country who joined in the campaign to offer their churches as sanctuaries to those immigrant families being targeted for deportation.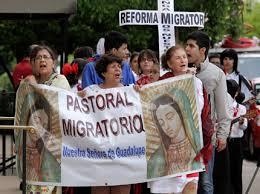 Sanctuary Movement leaders offered their congregations as spaces of refuge for immigrants facing deportation after hearing the news that Immigration Customs and Enforcement and the Department of Homeland Security plans to conduct raids targeting families who have fled violence and persecution in Central America.
Faith leaders from many traditions remind our decision makers that the story of Christmas the birth of Jesus, a child born in a stable, whose refugee family then fled the political violence that could have killed him as a baby.
"As pastors we know that each and every family is a holy family and the individuals and families who have fled violence don't just need our prayers, they need sanctuary," explains Rev. Alison Harrington of Southside Presbyterian Church in Tucson Arizona. "We open our doors to today's josephs and Mary's despite ICE's plans to deport them."