Viatorians Stand in Solidarity with Refugees Seeking Resettlement
February 1, 2017
On behalf of the Provincial Council and the Clerics of St. Viator — and as Catholic priests and brothers — we stand in solidarity with those refugees seeking resettlement/asylum in the United States through the approved U.S. Refugees Resettlement Program.
Our faith teaches us: "Do not forget to show hospitality to strangers, for by so doing some people have shown hospitality to angels without knowing it." (Hebrews 13:2)
We are in full support of the statement posted by the  U.S. Catholic Conference of Bishops on their website, as it is both timely and poignant. Here is an excerpt:
"We must employ means that respect both religious liberty for all, and the urgency of protecting the lives of those who desperately flee violence and persecution. It is our conviction as followers of the Lord Jesus that welcoming the stranger and protecting the vulnerable lie at the core of the Christian life. And so, to our Muslim brothers and sisters and all people of faith, we stand with you and welcome you."
Together with the Viatorian Community, let us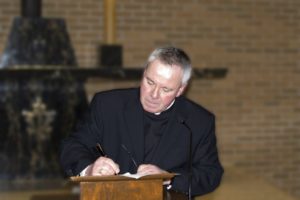 join together in our efforts and prayers seeking to create a world where peace and love prevail, a love that reaches out to the stranger, especially those who are most vulnerable.
Fr. Tom von Behren, C.S.V.
Provincial Superior