Viatorians Re-Commit Themselves to Ending Hunger in America
July 1, 2016
Fighting hunger is one of the key priorities of the Viatorian Community.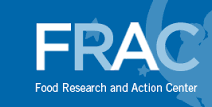 Consequently, the latest report published this week by the Food Research & Action Center, How Hungry is America?, is concerning.
It shows that the United States has made significant progress in addressing food hardship since the Great Recession, but still millions of Americans live in households that struggle to put food on the table. 
Read the full report, here. Below, are its key findings:
Nationally, one in six households reported they struggled to afford to buy food in the past 12 months.
Rates of food hardship in 2015 varied from a low of 8.4 percent in North Dakota to a high of 23 percent in Mississippi.
31 states had at least one in seven respondent households (14.3 percent or more) answer that they did not have enough money to buy food at some point in the past 12 months.
The states with the worst food hardship rates are: Mississippi, Louisiana, and Alabama. Of the 16 states with the worst food hardship rates, eight were in the Southeast.
Of the 109 MSAs surveyed, 93 had at least one in eight (12.5 percent or more) households affirmatively answer that they struggle to afford food.