Viatorians Join with LAWG in Lamenting Supreme Court Ruling on Immigration
June 29, 2016
The Viatorian Community joins with members of the Washington-based Latin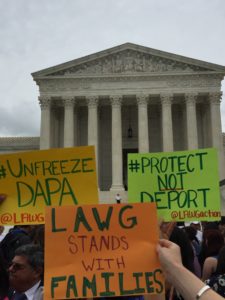 American Working Group in lamenting the 4-4 split decision by the U.S. Supreme Court in the United States v. Texas case.
This decision leaves in place a lower court ruling that blocks the implementation of the Obama administration's Deferred Action for Parents of Americans and Lawful Permanent Residents (DAPA) and the expansion of Deferred Action for Childhood Arrivals (DACA+).
It means that while the original DACA program remains in place, as many as 5 million youth and parents who could have qualified for expanded DACA or DAPA must remain in the shadows and live without protection from deportation.

"Today's decision is extremely disappointing, but we will keep fighting for protection from deportation for the millions of families who would have benefited from DAPA and expanded DACA, as well as for those who continue to arrive seeking asylum from the violence they are fleeing," states Daniella Burgi-Palomino, LAWG Senior Associate for Mexico, Migration, and the Border.
"Comprehensive immigration reform is our shared long-term goal, but time is of the essence for short-term action," she adds. "We encourage the Obama Administration to take immediate steps in the time it has left to show that it is serious about protection for all immigrant children and families in the United States."