Viatorians Join Convergence at U.S-Mexico Border
October 11, 2016
Members of the Viatorian Community joined with the human rights group, SOA Watch, at its convergence at the U.S./Mexico border in Nogales, AZ.
Fr. Corey Brost, CSV, Br. Michael Gosch, CSV, Br. Peter Lamick, CSV, and Br. Rob Robertson, CSV, joined with Patricia Ferrer and Nora Ruiz, two staff members at Cristo Rey St. Martin College Prep in Waukegan, IL, as well as hundreds of others in prayer vigils, in calling for compassion for migrants and an end to the militarization at the border.
"All faiths call out for immigration reform and welcoming migrants looking for a new life," Fr. Brost said. "I'm proud to be with them and Viatorians at the border."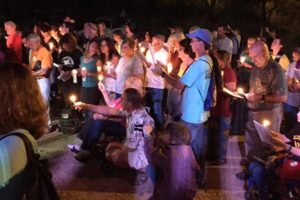 Viatorians have participated in prior SOA Watch events — since it began to draw activists in 1990, outside Ft. Benning, Georgia, in calling for the close of the US Army School of the Americas. But this was the first event held at the Mexican border and its many speakers, vigils and music proved educational for those in attendance.
The SOA Watch movement is a large, diverse, grassroots movement rooted in solidarity with the people of Latin America. Its stated goal is to close the School of the Americas, and to change U.S. foreign policy in Latin America by educating the public, lobbying Congress and participating in creative, nonviolent resistance events.
"It was a great weekend at the border with great people learning about an important issue," said Br. Robertson, who works as a junior high counselor at St. Viator School in Las Vegas. "It's better to experience and learn firsthand rather than to listening to the pundits.
"Education," he added, "sets us free from fear."