Br. Michael Gosch, CSV, had an op-ed published in the Daily Herald, which called for more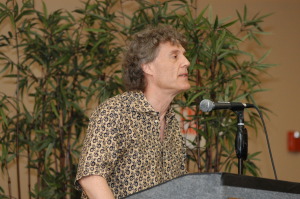 diplomacy in the war against ISIS and terrorism, and not increased air strikes. Br. Michael is the coordinator for peace, justice and integrity of life for the Viatorian Community, and reached a large audience with his piece. The Chicago suburban daily newspaper has a circulation of 150,000 and is the third largest in the state.
He is the latest religious to promote de-escalating the war and cultivating a just peace, according to the latest Justice & Peace Alert, published by the Conference of Major Superiors of Men, of which the Viatorians are members.


"We continue to visit (legislators) and the administration, as well as mobilize religious organizations," says Eli McCarthy, justice and peace coordinator of the CMSM. "There may be a war authorization vote in Congress after the election."
This latest alert offers more educational pieces for anyone wishing to write letters to the editors, or op-eds. It also gives details of a human rights watch report on Palestine, a Pentagon spending webinar, as well as action opportunities and information about upcoming conferences.
To read the entire Justice & Peace Alert, click here.