Viatorians Find Hope in Pope Francis' Message for World Day of Peace
December 13, 2016
In his annual World Day of Peace message for 2017, Pope Francis tells us to
embrace "Non-Violence: a Style of Politics for Peace."
In his message, Pope Francis urges us to practice active nonviolence and work to prevent conflict by addressing its causes, building relationships, and facilitating healing and restoration.
On Jan. 1, 2017, the 50th annual World Day of Peace, it will be the first time the Catholic Church has publicly come out and called for nonviolence.
The observance has taken place every year since 1968, when Blessed Pope Paul VI addressed all people, not simply Catholics, in calling for worldwide peace.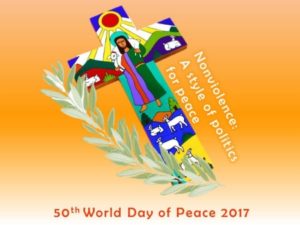 "Peace is the only true direction of human progress," he wrote, "and not the tensions caused by ambitious nationalisms, nor conquests by violence, nor repressions which serve as mainstay for a false civil order."
Some 50 years later, Pope Francis calls not only for peace, but for a lifestyle of nonviolence.
"I ask God to help all of us to cultivate nonviolence in our most personal thoughts and values," Pope Francis writes. "May charity and nonviolence govern how we treat each other as individuals, within society and in international life."