Viatorians Advance Zonta International's Campaign to End Violence Against Women
December 7, 2016
A pair of Viatorians — Fr. Richard Pighini, CSV, and Associate David Surprenant — are among the range of men from the Bourbonnais and Kankakee region asked to participate in an awareness campaign organized by members of the Zonta Club of Kankakee.
Both are featured in the club's "16 days of activism" to raise awareness and increase actions to end violence against women and girls around the world.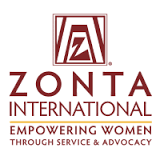 The campaign started Nov. 25, which is acknowledged worldwide as the International Day for the Elimination of Violence Against Women. It ends Saturday, Dec. 10, on Human Rights Day, which was adopted by the United Nations in 1948.
"Violence against women is a worldwide pandemic," says Sonja Honig Schough, Zonta International president. "it crosses every social and economic class, every religion, race and ethnicity. At least one out of every three women worldwide have experienced violence during their lifetime.
"We in Zonta International cannot accept this," she adds. "We need to use all our energy to eradicate violence against women locally and internationally through service and advocacy."
In Bourbonnais and Kankakee, their campaign played out across Facebook and at prominent locations in the community. In choosing men to serve as ambassadors for their campaign, they turned to city officials, school principals, business owners and in the case of the Viatorians, a parish priest and a local dairy farmer.
Fr. Pighini took his first vows as a Viatorian 36 years ago and just last year he celebrated 30 years of priesthood. Most of those years have been spent serving parishioners at St. Patrick Church in Kankakee and for the last 12 as pastor of Maternity BVM Parish in Bourbonnais.
David Surprenant has been a Viatorian associate for 10 years. He is one of only two dairy farmers left in Kankakee County. He and his wife, Associate Susan Surprenant, farm 435 acres, and when they are not milking their 180 cows they are involved in calving season, as well as planting and harvesting their crops of corn, beans, wheat, alfalfa and sorghum.
"When they asked me, of course I said yes," says David, who teaches religious education and serves as a lector at St. George Parish. "I was glad to be part of this great endeavor."