Viatorian Voices Heard on the Hill
April 10, 2013
Br. Michael Gosch, CSV, is a tireless advocate for immigrants, especially those who have been detained and separated from their families.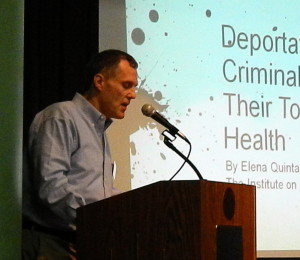 Now, he has the ear of Capitol Hill.
An op-ed that Br. Michael co-wrote with Sr. Pat Murphy, RSM, and Sr. JoAnn Persch, RSM, both Sisters of Mercy, appeared April 9 in the online edition of The Hill, a congressional newspaper that comes out every day when Congress is in session.
Their piece? "It's Time to Invest in Community-Based Alternatives to Immigration Dentention."
In it, they point to the series of shelters emerging across the country as different communities and faith communities work to offer short term residence for immigrants coming out of detention, offering them rapid-response upon their release.
Br. Michael is working with the Interfaith Committee of Detained Immigrants to open the Marie Joseph House of Hospitality, which will provide shelter, meals, transportation and community support.
"Like most aspects of immigration reform, expanding alternatives to detention is not just a political platform," the three say at the end of their letter. "Lives hang in the balance."
According to its web site, The Hill serves to connect the players, define the issues and engage Washington's decision makers in the debate.
It has a print circulation of more than 24,000 — with the largest circulation on Capitol Hill — and is read by opinion leaders, including 100 percent of  Congressional offices, the White House, political pundits, association  executives, lobbyists and corporate leaders.