In the wake of the U.S. Senate's passage of an immigration bill on June 27, many immigrant communities remain divided about the present state of the bill.


The Viatorian Community joins with the Conference of Major Superiors of Men in searching for ways to regain the momentum of justice and compassion in the immigration debate.
Specifically, they look to address the root causes of conflicts rather than react with intimidation and militarization as is the case with the present immigration bill.
They ask: How can we shift our thinking to one of growing in  the virtue of hospitality — by welcoming the stranger and those in urgent need?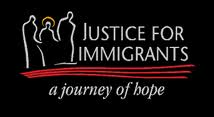 To learn more about these issues, as well as economic justice, peace and justice priorities, climate change and restorative justice and the death penalty, click here.