Support Wounded Veterans
May 21, 2013
Challenge yourself. Celebrate freedom. Honor our heroes by participating in a 5K/10K run, walk and tactical challenge that takes place over Memorial Day weekend.
The 10th annual Got Freedom run, sponsored by SALUTE, Inc., takes place at 8 a.m. Sunday, May 26 at Miner School in Arlington Heights. Its 5K and 10K routes takes participants through the surrounding neighborhoods, while the tactical run challenges 5K runners to a grueling sequence of basic training exercises at the end of their route, in a CrossFit-style competition.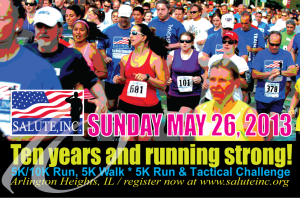 Saint Viator faculty and students are planning to turn out in droves, after watching a video about SALUTE and its role in assisting returning wounded veterans and their families. The founders of the grassroots organization, Will and Mary Beth Beiersdorf, are parents of Saint Viator students.
They started SALUTE after Will's 13-month deployment as a Naval reservist to Guantanamo Bay, Cuba, and the severe financial and emotional strain it left on his wife and family.
What started 10 years ago as a way to help returning veterans financially now has evolved into meeting the physical needs as well.
"The wars in Iraq and Afghanistan have taken a huge toll on the lives of hundreds of thousands of our brothers and sisters," said Fr. Corey Brost, CSV, vice president of mission effectiveness at the school. "They need our support as they recover from their injuries."
For more information, visit: saluteinc.org.