Support the Global Movement to End World Hunger
October 9, 2013
World Food Day takes place Oct. 16. The day was established more than 30 years ago by the Food and Agriculture Organization of the United Nations and it offers a day to recognize the global movement to end hunger around the world.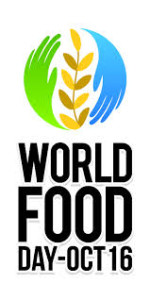 This year's theme is "Sustainable Food Systems" and to commemorate it, members of the National Catholic Rural Life Conference and other Catholic leaders will attend the annual World Food Prize event.
It takes places Oct. 16-18 in Des Moines, Iowa, to recognize scientists and others involved in food production. This year, event organizers have invited Cardinal Peter Turkson to address the assembly and take part in the proceedings.
Cardinal Turkson, of Ghana, has served as the President of the Roman Catholic Church's Pontifical Council for Justice and Peace since 2009. He has focused on the importance of addressing food security issues long-term by respecting the land and rural populations, and promoting agricultural development in poorer countries.
The Catholic Church brings a robust voice that advocates for social justice along with technological practices.
To learn about more ways to take action to end world hunger, click here.