Support International Migrants' Day
December 9, 2013
Join the Viatorian Community and organizations in 45 countries around the world on Dec. 18 when they celebrate International Migrants' Day.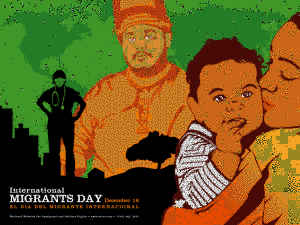 The day affirms the human rights of all migrants —regardless of citizenship or immigration status — and recognizes that migrants are men, women, children and families – not just economic commodities.
Officials with the National Network for Immigrant and Refugee Rights add that by observing International Migrants' Day, it provides an opportunity to highlight important issues affecting immigrant communities.
"In a period when economic crises have stirred anxieties about immigration and when unjust policies and public discrimination against immigrants have intensified," says Catherine Tactaquin, executive director of NNIRR, "we call for respect, tolerance and justice for all immigrants, regardless of their status."
To find out ways your organization can support International Migrants' Day, click here.