Statement of Catholic Theologians on Racial Justice
December 15, 2014
Fr. Mark Francis, CSV, joined with more than 400 theologians across the country in signing a statement that calls for racial justice and police reform, in light of recent events involving unarmed African American teenagers and white police officers.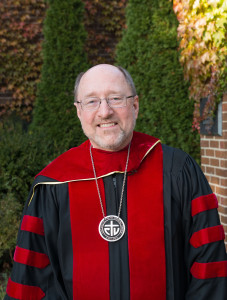 Tobias Winright, a former law enforcement officer and associate professor of theological ethics at St. Louis University, wrote the statement and it was published on the website, CatholicMoralTheology.com.
"As people of faith, we hear the echo of Jesus breathing on his disciples, telling them, 'Peace be with you,' " Winright writes." His spirt-filled breath gives his disciples, then and now, the power and obligation to raise our voices about the imperative of a just peace in a fragmented and violent world."
Fr. Francis serves as president of the Catholic Theological Union in Chicago. The majority of the more than 400 religious scholars who signed the statement teach Christian ethics and theology at Catholic colleges and universities across the country.

They joined with the North American Catholic moral theologians who contribute to the Catholic Moral Theology blog, whose mission to engage one another in theological discussion, and help one another live lives of discipleship.
"We understand our role as scholars and teachers to be a vocation rooted in the Church," their mission statement reads, "and so we seek to place the fruits of our training at the service of the Church,  as well as the academy and the world."
Read their full statement on racial justice, here.