Standing with Brothers and Sisters in Faith
February 21, 2017
With President Donald Trump's revised order banning travelers from seven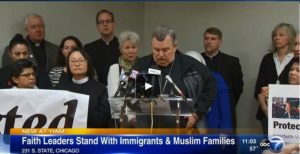 Muslim-majority nations expected this week, faith leaders from several religions gathered Monday for an interfaith breakfast  at Chicago's Downtown Islamic Center.
Among them was Fr. Corey Brost, CSV, an attorney and human rights activist who works with the Viatorians' Office of Justice, Peace and Integrity of Creation, led by Br. Michael Gosch, CSV. He participated in the interfaith event as a member of the Viatorians — and Priests for Justice for Immigrants.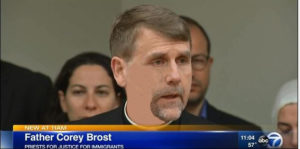 "We will not victimize the weak," Fr. Brost said. "We will not stigmatize our brothers and sisters who are Muslim. We will not tear apart families because they are not documented."
The religious leaders are part of the organization, Protected by Faith, and they want their opposition known as President Trump begins to revise his travel ban and anything that may include any qualifying factors regarding religious beliefs.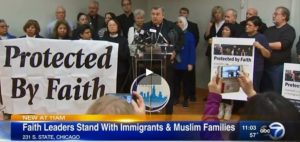 Protected by Faith is a network of religious leaders from diverse faiths, who have come together following the 2016 presidential election. Members denounced recent raids, deportation and the executive order targeting seven Muslim-majority countries.
"We recognize that millions of immigrant families are in very real danger," their Interfaith Commitment Pledge reads. "Mass deportations and Muslim registration and internment may have seemed impossible nightmares before, but now we find ourselves at the very edge of these nightmares becoming reality.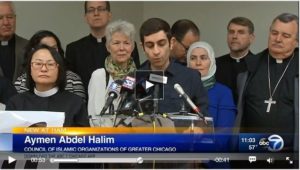 "We stand in solidarity with these immigrant families and all in our midst who are frightened, feel marginalized or disrespected," the pledge continues. "We are resolved to stand in mutual solidarity with those groups who may be exposed to undue suffering as we move into a new season in our nation."