Note the Way, a new Viatorian ministry devoted to promoting a deeper faith life through music, continues to take its show on the road.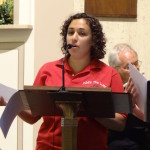 Led by Br. James Lewnard, CSV, these college students live in community and are devoting their summer to holding retreats, playing at various parishes and all before the Viatorian Youth Congress in August in Las Vegas, where they will accompany Masses and prayer services.
Most recently, the Note the Way musicians led parishioners during Mass at Our Lady of the Wayside Church in Arlington Heights. This weekend, they will follow up with a Journey Retreat for middle school and high school students.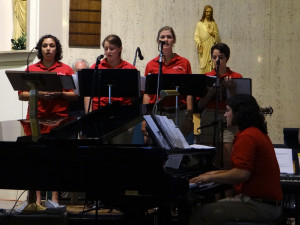 Their music had parishioners clapping along with the beat and singing out with renewed conviction. At the conclusion, they stood to give the young music ministers a standing ovation.
A similar Mass and retreat opportunity will take place July 19 at Christ the King Church in Springfield, IL.
Learn more about this unique ministry, on the Note the Way page on this web site.