Sequestration: Hitting the Poor Hard
July 15, 2013
The Viatorian Community supports the Coalition on Human Needs in its efforts to focus attention — weekly — on the effects of sequestration on the poor and disadvantaged.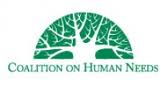 Sequestration Impacts:  July 7 – July 12
Each week, our examples show the impact on poor children, families, youth, seniors… But this week, some of the examples are especially painful.  Former Senator Byron Dorgan wrote in The New York Times about how sequestration compounds the way the U.S. government has "cheated" the people of the Pine Ridge Indian Reservation by failing to provide promised health, education, housing, and other services.  More than half the people living in Pine Ridge are poor (Shannon County, SD, 53 percent poor, 2011).  Instead of addressing high suicide rates, health problems, and joblessness, sequestration is cutting mental health, youth, health care and other services even more.
Or other examples from this week:  Seniors relying on the Meals on Wheels program in Savannah, Georgia are trying to fight back against cuts.  Ruth Walker, a client, said she doesn't eat breakfast or supper – just the one meal she gets at the Thumberbolt Senior Center.  Or 862 families who will not have housing assistance in Connecticut.  Or several more Head Start programs cut, and the children no longer helped.
To read more about specific cut backs, click here.