Sequester Slowing the Economy
August 9, 2013
Officials with the Coalition on Human Needs point to several analyses that show the economy is slowing slowing down economic growth, both nationally and in specific states.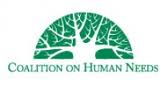 They also point to  165 university presidents, who have sent a letter to Congress and the President to urge them to stop education cuts, that are damaging our capacity for innovation, they said.
Coalition officials cite more instances of cuts in housing, Head Start, and senior meals, that all are affecting families — and negatively impacting the growth of the economy.
To read more of their weekly summary, from Aug. 2-8, click here.