See "Band of Sisters" Film
July 8, 2013
The film, Band of Sisters, tells about the remarkable transformation of Catholic nuns in the United States since Vatican II of the 1960s — and the reaction of some members of the church hierarchy who oppose their changes.
Perhaps more than any other group, U.S. nuns embraced Vatican II's call to serve where there was the greatest need.
Band of Sisters will be shown Friday at 7 p.m. at the Raue Center for the Arts in Crystal Lake.  The cost is $10.00. For more information, call the Raue box office, at 815-356-9010.
Included in the film, is a profile of two nuns who advocate for the rights of immigrant detainees and deportees in and around a Chicago-area deportation center.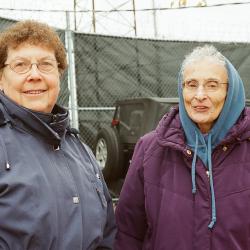 Over the past 45 years, Sister Pat Murphy and Sister JoAnn Persch have worked together in Chicago has focused on the rights and needs of immigrants, refugees, older persons, and families who are homeless.
They partner with the Viatorians in Sisters and Brothers of Immigrants, Illinois Coalition for Immigrant and Refugee Rights, Chicago New Sanctuary Coalition.
In Band of Sisters, we see them still going strong, trying to get a bill passed through the Illinois legislature that would ensure pastoral care for immigrant detainees.
Amid a nonstop schedule of meetings, lobbying, vigils, and rallies, they visit twice a week with prisoners awaiting trial and deportation, offering a compassionate presence to each person in the few minutes they are allowed.
Knowing that they might not be able to keep this up much longer, they are drawing together people of all ages and faiths to carry on their ministry, and holding out hope for an end to the U.S. immigration policies they label "demonic."