Observing International Human Rights Day
December 11, 2014
Nearly 65 years after the General Assembly of the United Nations declared Dec. 10 to be Human Rights Day, efforts continue to work for the full range of human rights — every day of the year.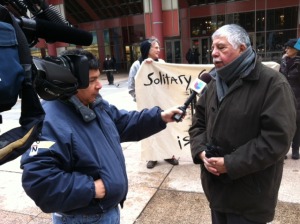 This year, members of the Viatorian Community joined with the Illinois Coalition Against Torture in a demonstration in front of the State of Illinois Building.
Together, they called on state officials to end the use of solitary confinement in Illinois prisons, jails and detention centers, and they also circulated a petition.
Even before the demonstration started, they had garnered more than 1,500 signatures — and by the end of the day they had more than 1,800.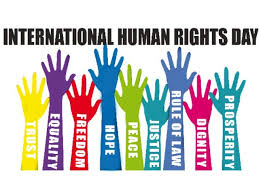 After the demonstration, they met with the Chief of Staff for Policy and Legislative Affairs for Illinois Attorney General Lisa Madigan. She met with five members of the group, including Br. Gosch, to discuss the petition.
"Our meeting went well," said Melinda Power, an attorney and member of ICAT. "We gave her the petitions, talked about why this matters, asked her to see what the position of Lisa Madigan is.  She was polite and interested."
Those signatures next will be forwarded to Illinois Gov.-elect Bruce Rauner.