A new Viatorian ministry — designed around the power of music in a vibrant faith life — took flight this week with the arrival of summer college interns.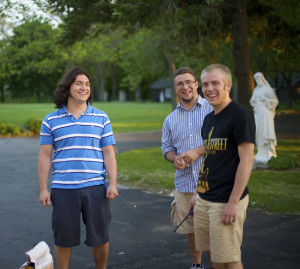 Working with Br. James Lewnard, CSV, the group includes students from Fairfield and Loyola universities, as well the University of Massachusetts and University of Nevada at Las Vegas; who play a variety of instruments, and bring a background in liturgical music and performance.
Throughout the summer, these vocation music ministers are hoping to mentor young people to use their musical gifts as a means to bring others closer to God.
As part of their internship, they are living in community at Villa Desiderata Retreat Center, which is located on the scenic shores of Pistakee Bay in McHenry, IL, and run by Br. Patrick Drohan, CSV.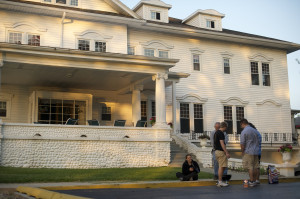 "We believe that people's faith and prayer lives are often deeply integrated with the universal language of music," says D.J. Horstmann, one of the leaders of the group.
They commute daily to the Viatorian Province Center in Arlington Heights, where they rehearse and plan their retreat and travel itinerary — which takes them from Chicago to Connecticut to Las Vegas — this summer alone.
This summer, Note the Way members are hosting three Journey retreats — at Fairfield Prep in Connecticut, at Our Lady of the Wayside Church in suburban Chicago, and at Christ the King Parish in Springfield, IL — but they also are looking to book liturgical and service workshops.
For more information about this new ministry and to see their schedule, visit the Note the Way home page.